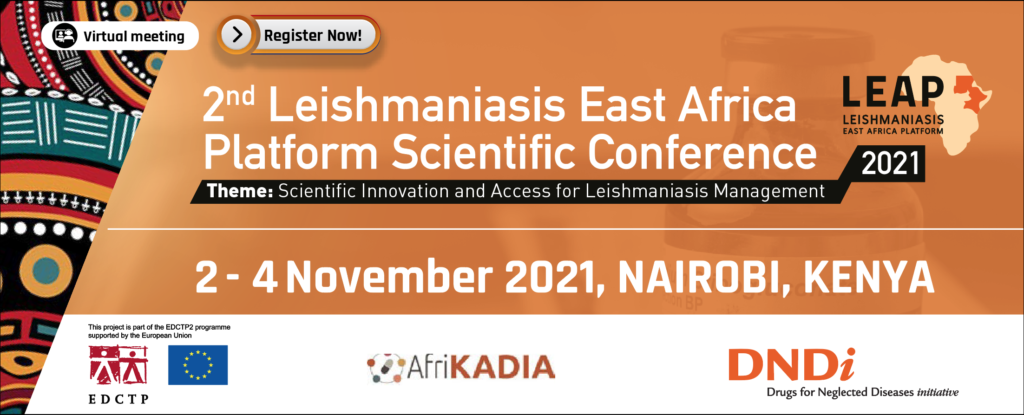 The Drugs for Neglected Diseases initiative (DNDi) and the Leishmaniasis East African Platform (LEAP) will be hosting the 2nd LEAP Scientific Conference from 2 – 4 November, 2021. The three-day hybrid conference is themed: Scientific Innovation and Access for Leishmaniasis Management.
The LEAP Conference will bring together scientists, researchers, policy makers, public health practitioners and advocates to discuss the state-of-the-art in diagnosis, treatment, prevention, and elimination of leishmaniasis. Leishmaniasis is a neglected disease that affects an estimated over one billion people worldwide. It is a complex disease that presents in several forms – visceral, cutaneous, mucocutaneous, and post-kala-azar dermal leishmaniasis – and is caused by 20 different Leishmania parasite species.
Over the past 12 years, AfriKADIA Consortium partners, have as a joint effort, conducted innovating Visceral Leishmaniasis trials in the eastern Africa region. The Consortium is funded by the European & Developing Countries Clinical Trials Partnership (EDCTP) as part of the EDCTP2 programme which is supported by the European Union under Horizon 2020, its Framework Programme for Research and Innovation.
The conference will have five tracks which shall cover cutaneous, mucocutaneous, visceral form, post-kala- azar dermal leishmaniasis, HIV/VL co-infection, as well as ethics and regulatory issues.
TRACK 1 – Leishmaniasis: Basic science, translational research, and vaccine development
TRACK 2 – Advances in R&D and access, diagnosis, and treatment for leishmaniasis
TRACK 3 – Leishmaniasis prevention, epidemiology, vector control, and elimination
TRACK 4 – Current advances in cutaneous leishmaniasis
TRACK 5 – Special session on the impact of COVID-19 on NTDs and training on fundraising tools for Africa
If you have any questions, please contact us through leap@dndi.org.