Fast-tracking scientific innovation and access for leishmaniasis control in Africa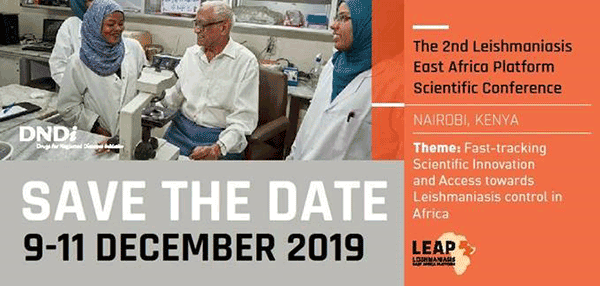 Date: 9-11 December 2019
Location: Nairobi, Kenya
The 2nd Leishmaniasis East African Platform (LEAP) Conference will bring together over 150 stakeholders, including scientists, researchers, policy makers, public health practitioners and advocates to discuss diagnosis, treatment, prevention and elimination of leishmaniasis.
The conference is organized by DNDi and LEAP (a clinical research network that brings together experts from leishmaniasis endemic countries in eastern Africa to facilitate clinical testing and improved access to better treatments for leishmaniasis patients).
Abstract submission deadline is on 30th April 2019 at 11:30pm East Africa Time (EAT). Participants can register and submit abstracts via this link.
More information in the call for abstracts